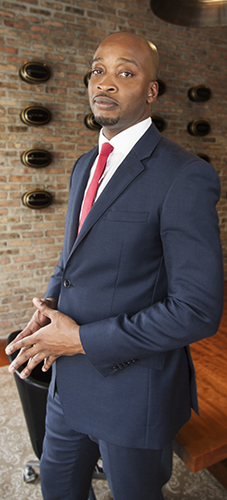 Dantae Williams
Director
(441) 295-7105
Dantae is a Director in the Litigation and Advice Team at Marshall Diel & Myers Limited with extensive experience in civil and commercial litigation. Prior to joining Marshall Diel & Myers Limited in 2016, Dantae had broad experience in criminal, civil and constitutional law which he has steadily expanded to include public law, employment law and personal injury.
Expertise
Dantae is a rising star in the firm's litigation department. Dantae's practice encompasses advising clients on all aspects of debt collection, contractual disputes, employment law, commercial litigation, personal injury, constitution law and judicial review. He has regularly appeared before all levels of courts, gaining extensive advocacy experience whilst conducting Magistrates' Court trials, Supreme Court trials, chambers and petition hearings and appeals before the Court of Appeal.
Dantae regularly drafts advices and opinions on complex public law, banking and statutory interpretation matters.
In addition to maintaining a diverse practice, Dantae regularly works closely with Senior Partners and Queen's Counsel in relation to a variety of contentious matters. In particular, Dantae acted in a high profile judicial review case relating to search warrants, statutory interpretation, doctor-patient confidentiality and conflicts of interest.
Dantae also regularly advises on commercial agreements and is regularly instructed to draft business documents that convey the clients' wishes.
Notable Matters
Part of a team engaged to represent a public service department against a judicial review challenge involving confidentiality, conflict of interest, statutory interpretation, contempt and access to seized material. 
Litigation through to the Court of Appeal concerning conflicts of interest.
Litigation concerning the search and seizure of documents from private citizens without search warrants
Litigation through to the Court of Appeal concerning careless/dangerous driving. 
Litigation through to the Court of Appeal concerning the 'young man's defence'
Education
Oakwood College (B.A. (Hons), 2006)
University of Manchester (LL.B, (Hons) 2009)
City University London
Bar Admissions
England and Wales (non-practicing)
Bermuda Bar 2011
Industry Associations
Member, Bermuda Bar Association
Member, Legal Aid Subcommittee
Commissioner for Oaths
Notary Public
Past President of the Epsilon Theta Lambda Chapter of Alpha Phi Alpha Fraternity, Inc.