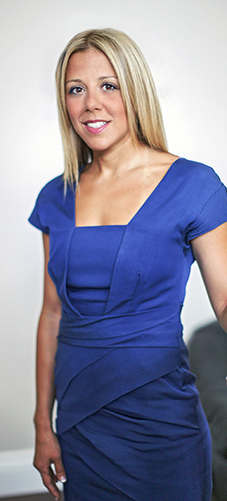 Katie Tornari
Director
katie.tornari@law.bm (441) 298-1216
Overview
Katie is a Director at Marshall Diel & Myers Limited and has almost 20 years' experience as a lawyer.  Prior to joining Marshall Diel & Myers Limited, Katie was a Solicitor in the Insurance and Reinsurance Litigation Group at Edwards Wildman LLP in London. She joined Marshall Diel & Myers Limited in 2008 and was appointed as a director in 2012. Katie is active in the development and supervision of MDM's student and pupillage programs.
Expertise
Katie's practice encompasses all aspects of commercial litigation with a particular focus on complex, high value and cross-jurisdictional commercial disputes for clients in Bermuda and internationally and insurance and reinsurance disputes. Katie frequently works as part of an international team and works closely with King's Counsel and instructing attorneys from major firms in England, Canada and United States. In particular she has acted in high value disputes relating to trusts, financial institutions, funds, professional negligence, the affairs of companies, their directors and shareholders, insolvencies, employment, personal injury and medical negligence. She frequently drafts and negotiates non-disclosure, confidentiality and settlement agreements. 
Katie also manages the insurance and reinsurance practice and has significant experience in handling large insurance coverage disputes in arbitration and, in particular, disputes concerning the Bermuda form. Katie also has extensive experience of arbitrations which have addressed various highly contentious London market issues for both solvent and insolvent reinsurance companies and has acted for clients in the live market and clients that are in run-off, including Lloyd's corporate members.
Katie also regularly advises on commercial and regulatory matters and is regularly instructed to draft commercial agreements and business related documents in a manner that articulates the message which the client wishes to convey. In particular, Katie is legal counsel to one of the biggest oil and gas suppliers in Bermuda and is involved in drafting, reviewing and negotiating agreements for every aspect of their business and advising them in relation to legal issues that arise in the operation of their business.
Katie is extremely passionate about her work. She is not only able to grasp complex legal issues very easily but she understands what it means to deliver results for her client. She will always ensure that she understands her clients' commercial objectives and their businesses to achieve the results that they want.
Notable Cases
Many of the cases that Katie has worked on in the UK and Bermuda have been arbitrations or litigation where the record has been sealed, has been resolved by settlement or which is still ongoing with no decisions yet reported. As such they are confidential. Reported decisions on cases in which Katie has been involved in Bermuda include the following:
St. John's Trust Company (PVT) Limited v James Watlington et al [2020] SC (Bda) 51 Civ (14 Dec 2020)
Westport Trust Company Ltd v Paragon Trust Ltd [2010] Bda LR 35
Moulder v Cox Hallett Wilkinson and Others [2010] Bda LR 78 (Supreme Court) and [2011] Bda LR 40 (Court of Appeal) 
Joliet 2010 Limited Teodoro 29 Corp v Goji Limited Eran Ben-shmuel Alexander Bilchinsky 2012 BDA LR 76, Supreme Court of Bermuda
Robinson v Bank of Bermuda Ltd [2010] Bda LR 36 (Supreme Court) and [2010] CA (BDA) 9 Civ, Court of Appeal 
Re Kingate Management Limited [2012] Bda LR 63
Mutual Holdings (Bermuda) Ltd v Matsen Insurance Brokers Inc [2014] SC (Bda) 54
In the matter of ABC Trusts (10 September 2014)
Bermuda Press (Holdings) Ltd V Registrar of the Supreme Court [2015] Bda LR 73
Kingate Global Fund Ltd & Anor v Kingate Management Ltd  & Ors [SC Comm (Bda)] [2015] SC (Bda) 65 Com
Patriot Group LLC v Hilco Financial LLC & Ors [SC Civ (Bda)] [2015] SC (Bda) 32 Civ
Kingate Global Fund Ltd & Anor v Kingate Management Ltd  & Ors [SC Comm (Bda)] [2016] SC (Bda) 26 Com
Capital Partners Securities Co Ltd v Sturgeon Central Asia Balanced Fund Ltd [2016] SC (Bda) 68 Com
Capital Partners Securities Co Ltd v Sturgeon Central Asia Balanced Fund Ltd [2017] SC (Bda) 55 Com
In the Matter of XYZ Trusts (12 December 2017)
Capital Partners Securities Co Ltd v Sturgeon Central Asia Balanced Fund Ltd [Court of Appeal] [2018] CA (Bda) 5 Civ
St. John's Trust Company (PVT) Limited v James Watlington et al [2020] SC (Bda) 19 Civ (26 March 2020)
Education
King's College, London (LLB, Hons, 1997)
Bar Admissions
England and Wales, 2001
Bermuda, 2009
Industry Associations
Member, Bermuda Bar Association
Member, Law Society of England and Wales
Commissioner for Oaths and Notary Public
Vice Chair of the Chartered Institute of Arbitrators, Bermuda Branch
Former Committee Member, Young Members Group, Chartered Institute of Arbitrators
Founding member of Claims and Litigation Management, Bermuda Branch
Former Chair, Bermuda Under 40s Re/Insurance Group