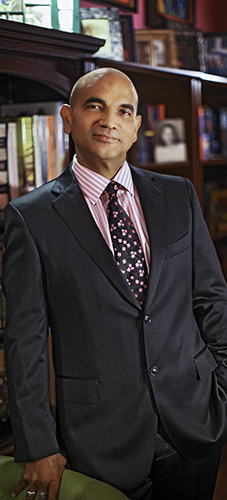 Ronald Myers
Director
Ronald Myers is a director of Marshall Diel & Myers Limited and manages the firm's commercial law practice. Ronald is also the principal source of knowledge support for the Litigation and Advice Team. He has over 30 years of legal experience specializing in constitutional and administrative law, statutory and regulatory law, contract drafting and interpretation and general commercial litigation and advice. Ronald is one of the senior regulatory lawyers in Bermuda.
Ronald began his career in litigation, moved to parliamentary drafting and then obtained his postgraduate qualifications in 1987. He spent the next seven years as parliamentary counsel and legal advisor to various Governments in the Caribbean, as well as in Bermuda, returning to private practice in 1994. In 1998, he and fellow director Mark Diel formed their law partnership, Diel & Myers. In 2002 Marshall and Aicardi joined with Diel & Myers to become Marshall Diel & Myers.
Expertise
Ronald is the firm's leading knowledge resource on a broad range of legal matters. In his role as expert advisor to the Litigation and Advice Group, he has prepared or assisted in the preparation of cases at every level and played a significant part in many of the firm's major successes. Ronald has extensive experience in handling a range of legal matters relating to disputes between employers and employees; companies and shareholders; and trustees and beneficiaries.  He regularly drafts and reviews commercial contracts and advises on complex public law, statutory and contract enforcement and interpretation matters.
Ronald spends much of his time as an expert advisor to attorneys engaged in large and complex civil litigation matters. He is a seasoned specialist in public law litigation, including commercial judicial review matters touching on constitutional and administrative law issues, as well as issues of statutory interpretation.  He is also well versed in litigation turning on issues of contractual interpretation and enforcement, as well as directorial duties and powers. As a skilled legal draftsman, he regularly advises clients on contract drafting issues. He often works with international teams of commercial litigation attorneys and Queen's Counsel. Ronald has been involved in some of the most important constitutional cases in Bermuda and has appeared before the Privy Council.
Ronald has significant experience serving the telecommunications, oil & gas, technology, financial services and public sectors. He has represented many of the leading telecommunications companies advising on new regulatory landscapes and regulatory reform and has been lead counsel to two major energy companies. As the firm's public law specialist he has frequently represented clients at numerous regulatory hearings and in relation to numerous regulatory matters. Ronald also continues to advise the Government in various matters at varying levels of complexity, having previously been the principal advisor to the Ministry of Finance, the Department of Immigration and the Bermuda Monetary Authority when he was engaged by the Attorney General.
Ronald has served as a member of the Law Reform Committee and the National Training Board, and while engaged by the Attorney General, acted as his representative on the Insurance Advisory Committee.
Education
University of the West Indies (at Cave Hill), Barbados, West Indies (LL.B (Hons.), 1983)
Hugh Wooding Law School, St. Augustine, Trinidad, West Indies (LEC, 1985)
University of the West Indies (at Cave Hill), Barbados, West Indies (Dip. Leg., 1987)
Bar Admissions
Trinidad, 1985
Bermuda, 1994
Industry Associations
Member, Bermuda Bar Association
Commissioner for Oaths
Notable Matters
Litigation through to the Privy Council, concerning the constitutional rights of business startups, and questions as to freedom of association and deprivation of property in the face of restrictive Governmental legislation.
Litigation concerning the constitutional rights of telecommunications providers to freedom of association within the marketplace.
Litigation concerning the privacy rights of employees.
Drafting of the instructions for the first version of the Government's insurance regulations first creating different classes of insurers and drafting of the commentary on the employment legislation in its formative phases on behalf of industry groups.
Part of a team engaged to represent one of Bermuda's most prominent re-insurers, in its groundbreaking efforts to own property in Bermuda which culminated in the drafting of an historic private Act of the Bermuda Legislature.