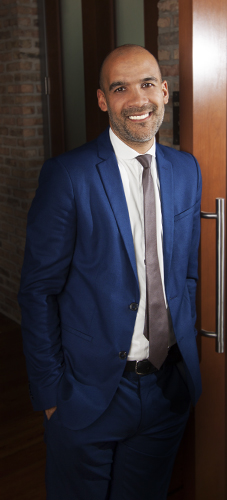 Saul Dismont
Associate
Saul is an Associate in the Litigation and Advice Team at Marshall Diel & Myers Limited. He returned home to Berm­uda from England in 2010, where he was educated. He has over six years post-qualification experience as an attorney and has regularly appeared in the Supreme Court and Magistrates' Court, including 'Special Courts' such as Family Court, Juvenile Court and Mental Health Treatment Court. He has appeared in all levels of court.
Expertise
Saul has a reputation for handling difficult cases and his advocacy, probity and interest in human rights have led him to specialise in representing vulnerable people. He has completed the UK 'Children Law Accreditation Scheme' training, a prerequisite for representing children in the English court system, and he is the only lawyer in Bermuda appointed by our courts to represent children.
Through successful legal challenges Saul has caused the early release of children unlawfully detained at police stations and prison. Consequently, this has ended the practice of sending child defendants to prison and the practice of passing indefinite terms of imprisonment.
Saul is a founding member of the Mental Health Treatment Court Programme. He is also the only lawyer representing patients detained at the Mid-Atlantic Wellness Institute under the Mental Health Act.
Saul has been on the defence team for serious criminal trials and appeals led by the illustrious criminal defence attorneys Elizabeth Christopher and John Perry QC. Such experience has aided his thorough approach to agamut of legal matters, which often enables him to provide alateral solution to an 'impossible'legal problem.
Notable Cases
Due to protecting the anonymity of vulnerable people most cases are unreported.
J & S v The Attorney General et al [2016] SC (Bda) 6 Civ (20 January 2016)
The Chief Justiceruled that Bermuda law breaches the United Nations Rights of the Child by excluding 16 and 17-year-old children from the protection of Juvenile Court
Re: A child involved in divorce proceedings the Supreme Court (2015)
The first time an attorney and a litigation guardian were appointed to represent a child in the Supreme Court
Re: A child v The Director of Child & Family Services (2015)
The release of a child unlawfully detained at Mid-Atlantic Wellness Institute
Re: A patient detained under the Mental Health Act (2015)
The first time a patient was represented by an attorney in a hearing before the Mental Health Review Tribunal
Hollis v The Commissioner of Police (2014) SC (Bda)
The case established that a '9 months to three years' detention for not paying a taxi fare is excessive and that indeterminate sentences are unlawful
Re: A child involved in care proceedings in the Family Court (2014)
The first time an attorney and a litigation guardian were appointed to represent a child in the magistrates' court
CR v F Miller (2013)
The first case referred to the Mental Health Treatment Court Programme
A child v Commissioner of Police (2012])SC (Bda)
The releaseof a child unlawfully detained at a police station
JS v F Miller [2012] SC (Bda) 32 App
The release of a child unlawfully imprisoned at the Co-ed Facility
Education
University of Law, London, England (Graduate Diploma in Law, 2008)
University of Law, London, England (Bar Vocational Course, 2010)
University of Law, London, England (awarded LLB (Hons) Law degree, 2010)
Additional training
Children Law Accreditation Scheme training, 2015 (not certified)
(certificationonly for lawyers currently practising in England)
Mental Health First Aid Certification (2014)
Bar Admissions
England and Wales, Middle Temple, 2011
Bermuda, 2012
Industry Associations
Parole Board, member
Disability Advisory Council, member
Bermuda Psychologists Registration Council, member
Continued Legal Education Committee for the Bermuda Bar, member
Mental Health Treatment Court Programme, founder member
Commissioner for Oaths
Notary Public